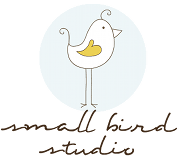 Notice anything different about my blog??!! I was lucky enough to win a giveaway from Franchesca at
Small Bird Studio
a few weeks ago that she hosted in memory of her beautiful daughter Jenna Belle. My prize was a complete blog makeover - all the bells and whistles!
I think the design captures me and Ish perfectly. It's a little him and a little me. I love it!
I highly suggest checking out Franchesca's blog, she does a great job of mixing design, fun giveaways and family life all in one spot - and if you're in the market for a new look for your blog, check out her portfolio.
Thank you Franchesca!